Fall Fashion Ideas – Matrix, Americana and Prep School – by Corey Lauren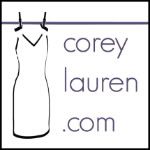 Not sure about you, but I'm feeling relieved that Fall-ish weather (er, not 100 degree weather) has arrived.  How creative can one be with their wardrobe choices when melting and suffocating begins as soon as you step out the front door?  One layer of clothing (other than necessary undergarments) was about all I could handle.  So, woo-hoo for "Fall!"
In addition to deciding which football games and costume parties you'll attend, take a day or two to shop and add a few new pieces to your wardrobe.  Plus, this season's fashion trends are worth getting excited about.  First let's start with the color palette of the season.  Of course, the runway was packed to the gills with black, charcoal, and browns, all necessary neutrals to build the foundation of your fall/winter wardrobe.  Men's summer clothing brought an overdue bright and exuberant color scheme.  I was happy to see this carry over to fall, although in a slightly more subdued way, which makes sense.  So, a few "big" colors of this season are:  hunter and emerald green, burgundy, golden yellow, and burnt orange.
The "look" and "feel" styles featured on the runway have something for just about anyone.
Ultra modern Matrix-inspired—super structured, just past the knee length coats, leather, all black everything, nearly black blues, tough but sleek shoes, very tailored, suit fabrics with sheen, luxe from head to toe.  I'll let you know when I find those sunglasses that balance on your nose.
Americana Worker—utilitarian, rugged lace up boots and westerny cowboy boots, plaid, plaid, and more plaid, relaxed denim pants, corduroy pants, canvas jackets, jackets with oversized front chest pockets, lots of red, green, and brown, more laid back.  The Brawny man takes over fashion.
Prep School—herringbone, tweed, and houndstooth saturated the runway and found head to toe—trousers, jackets, coats, hats, socks, etc.   These fabrics are having their comeback into the shows of high-end designers and not just in the closets of our hipster friends.  Who needs fashion week?  Just ask the hipsters.  They beat us to it again!
Other tidbits for Debonair Dandies (see what I did there?):
Double Breasted Suites
Wider Lapels
Contrasting Lapels
Knee Length Overcoats
Now, with all the said, the key to pull pieces from various influences you like and make it your own.  (Need some assistance? Contact me!)  And last but not least, the easiest and cheapest way to update your wardrobe is through accessories—buy several hats, scarves, socks, pocket squares, and bags in various prints and colors mentioned above.